Welcome to
EAGLE
The Army Air Corps Network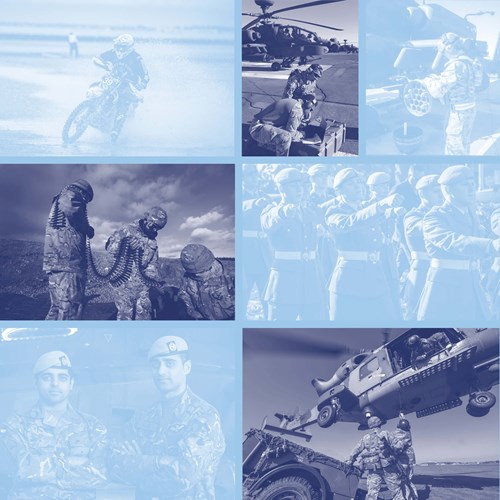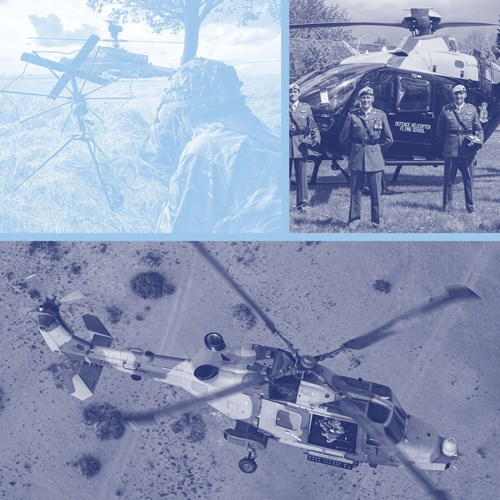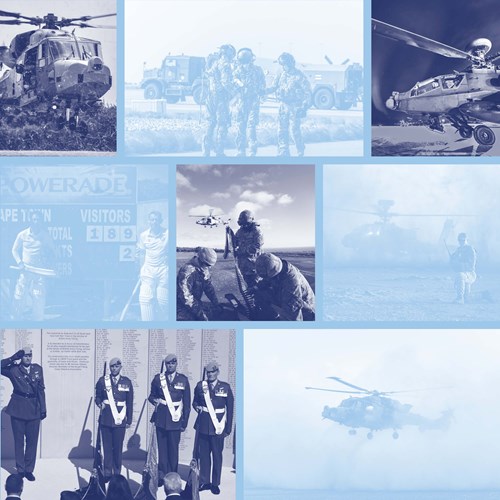 Go to slide 0

Go to slide 1

Go to slide 2
Welcome
On this page you will find brief updates about our people (AAC serving soldiers and veterans), highlights from our social media networks, news of upcoming events and information about our Regiments, aircraft, recent operational history and proud heritage.
If you're a serving soldier or veteran in need of help, or a relative or friend seeking help for a member of our AAC community, please head to the Welfare section for signposts to support or click here.
AAC serving personnel and veterans are eligible to join the members' portal on this site. Membership is free and enables you to book tickets for upcoming events, find out about Corps sport and adventurous training opportunities, hear about veteran activities in your area and benefit from the buzz of activity and spirit of camaraderie that membership of our Corps entails. Simply sign up here.
If you're interested in joining the AAC then the Join Us page contains the most up to date links and contact info for you. Follow this short cut here.
Or perhaps you're looking for an unusual present for the AAC enthusiast in your life. In which case, the shop section has links to our approved stores stocking AAC branded merchandise from ties to tartan, from beers to badges.
Finally, thank you for visiting us. We hope to see you again soon!
Colonel Army Air Corps, Colonel Julian Facer ADC
Highlights
From across our social media networks.
UK Global Response Force
11 May 2022 - 4AAC continues to train with both UK and NATO ground forces. 1st Aviation BCT and 16 Air Assault BCT work together as the UK Global Response Force to deploy and operate effectively whenever required. Apache provides speed, reach and lethality. #Unifiedstance | 4 Regt AAC Twitter
Exercise Bold Dragon
16 April 2022 - 1 Regt AAC Wildcat Battlefield Reconnaissance Helicopters have recently participated in Ex BOLD DRAGON. The exercise was a NATO enhanced Forward Presence (NATO eFP) in Estonia, 'force-on-force' Battlegroup multi-national operation.
#wearenato #armyaviation | AAC Instagram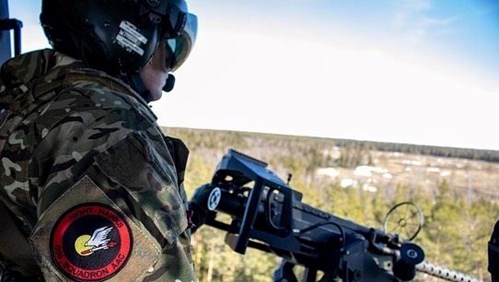 3AAC Freedom Parade
Bury St Edmunds, Suffolk. 31 March 2022 - Soldiers from 3 Regt AAC, part of 1st Aviation Brigade Combat Team (1 Avn BCT) who will be operating the new Apache AH-64E, have today celebrated their links to Suffolk and their proud history as they exercised the Freedom of St Edmundsbury. Army Air Corps Twitter
Apache E model 
25 January 2022 - Defence Procurement Minister, Jeremy Quinn said: ''There can be no doubt these impressive Apache helicopters will help the Army sustain its battle-winning capabilities in future operations.''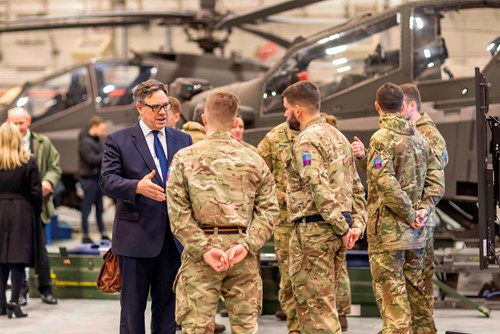 1 Avn BCT - Operating in the Arctic
31 January 2022 - Crews, Engineers and Ground Crew from 4 Regiment AAC have been training & operating in the challenging conditions Norway has to offer, preparing 1st Aviation Brigade Combat Team to deploy globally. AAC Twitter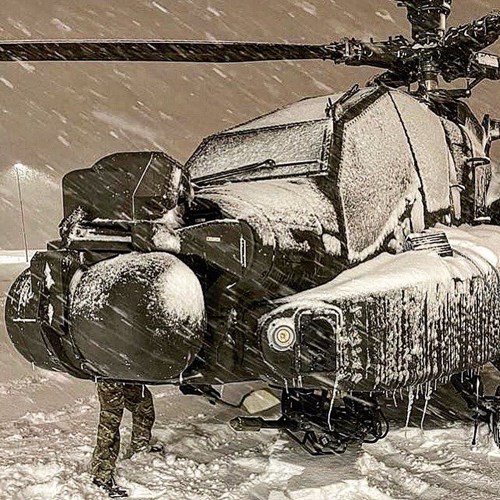 Heat And Dust
October 2021 - Crews from 1st Aviation Brigade Combat Team are in Oman to undergo Desert Environmental #Training – 'This is vital to ensure we are prepared to deploy globally to support Permanent Joint Headquarters (PJHQ)overseas operations as well as our tasks in the UK.
#FlyFightLead #CombatAviation #Teamwork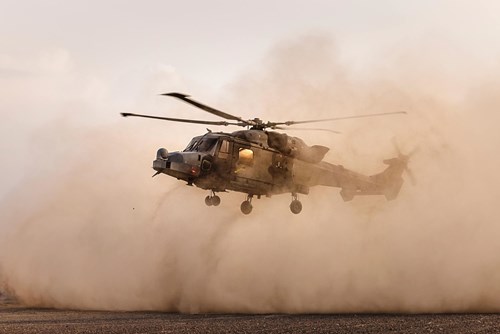 Desert Deployment
October 2021 - Apache and Wildcat crews from 1st Aviation Brigade Combat Team (1st Avn BCT) have deployed on Ex PINION OMAN to conduct essential Desert Environmental Training ahead of supporting 1 (UK) Division on Ex KHANJAR OMAN.
#ArmyAviation #Interoperability #Allies #FlyFightLead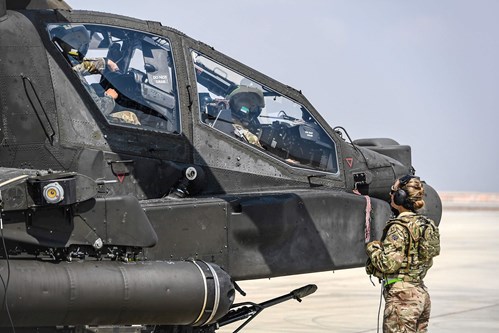 Commandants' Cup
18 October 2021 - Members of 2 (Trg) Regt AAC and 7 (Trg) Regt AAC took part in the Commandant's Cup today. The teams had to race around a course carrying Forward Arming And Refuelling Point (FARP) equipment. It was an impressive display from all who took part, with 7 (Trg) Regt AAC winning the first round.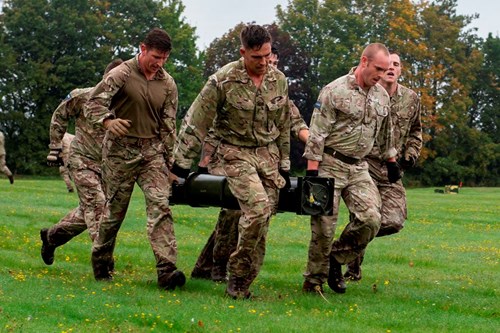 Go to slide 0

Go to slide 1

Go to slide 2

Go to slide 3

Go to slide 4

Go to slide 5

Go to slide 6

Go to slide 7
History
British Army Aviation – Now & Then
The Army Air Corps was established on 1st September 1957.
AAC soldiers have served on operations in Malaya, Borneo, Aden, Northern Ireland, the Middle East, the Balkans, Libya and Afghanistan, as well as disaster relief in the Far East and the Philippines.
Today's AAC soldiers today operate the potent Apache Attack helicopter and Wildcat Battlefield Reconnaissance helicopter and maintain High Readiness as part of The British Army's world-class Aviation Brigade Combat Team.
At its formation, on 1st September 1957, the AAC drew in the remaining squadrons and flights of the Air Observation Post and Glider Pilot Regiment that were still operating in their roles of observation, reconnaissance, command and control, and liaison.  
Welfare & Benevolence
Find support here
The AAC Regimental Committee acts as the Trustee Board for the AAC Charity (Charity Commission No 1184333), which provides the basis for welfare and benevolence in the Corps and for AAC Veterans.
If you are aware of somebody in need who may require help or advice, please direct them to their local Royal British Legion, SSAFA Regional Office, or the Officers' Association, (or Veterans Aid in London), in the first instance.
These organisations give advice and will task caseworkers where appropriate.
Advice may be sought from either the AAC Welfare Assistant or the Army Air Corps Secretary – contact details here
Serving personnel may access support through their Unit Welfare staff or the service-related charities above.
SSAFA - 0800 731 4880 from 9.00 to 17.30 weekdays. At other times a message can be left. www.ssafa.org.uk/about-us/contact-us
The Royal British Legion – 0808 802 8080 from 8am to 8pm, 7 days a week.
www.britishlegion.org.uk/about-us/contact-us/
The Officers' Association - 020 7808 4175
www.officersassociation.org.uk/contact- us/
Veterans' Aid - 0800 012 6867 or 0207 8282468 or visit VETERANS-AID.NET/CONTACT/ Veterans Gateway can put veterans in touch with organisations dealing with healthcare, housing, employment and more. 0808 8021212. www.veteransgateway.org.uk/
More detailed information here
Go to slide 0

Go to slide 1

Go to slide 2
The AAC Remembers
Those Who Have Died in Service
They shall not grow old
As we who are left grow old,
Age shall not weary them
Nor the years condemn,
At the going down of the sun
And in the morning,

We will remember them
1958
Captain PJL Dalley (407797) RA 17 Dec 28 – 14 Feb 58
Captain M Cracknell (424295) RA 17 Feb 32 – 13 Nov 58
5127631 SSgt Hall RE – RA 9 Dec 23 – 8 Jul 58
Captain TDG Mulady (424413) Queens 30 Oct 31 – 11 Dec 58